IAA Mobility 2023: Crédit Agricole Consumer Finance will attend the trade fair with its subsidiaries Crédit Agricole Auto Bank, Drivalia and Creditplus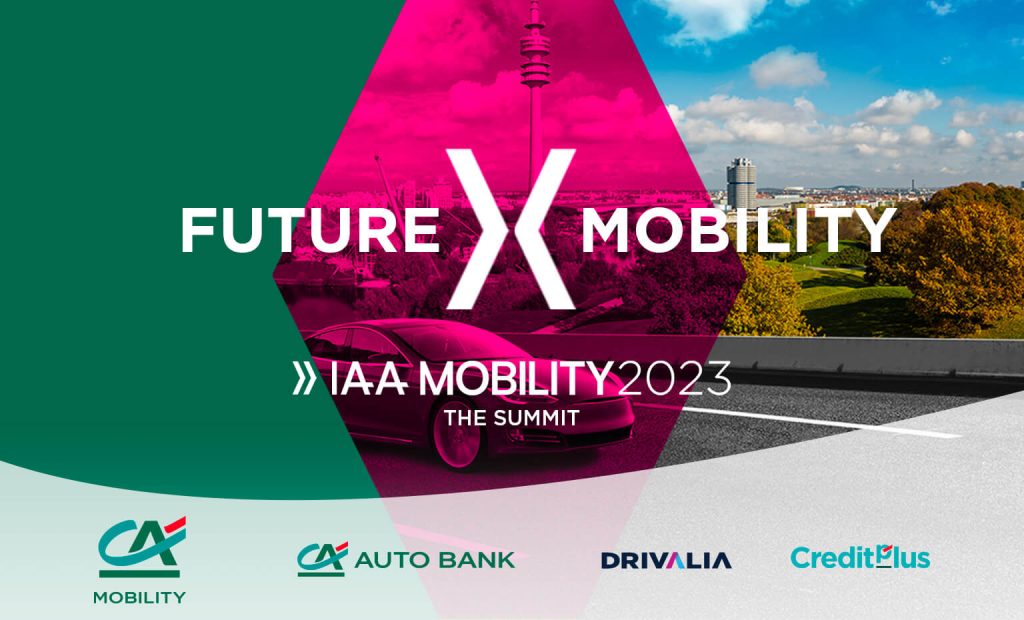 Crédit Agricole Consumer Finance's ambition to be the leader in green mobility in Europe will be reaffirmed at the Munich trade fair, from September 5 to 8, in a large 360 m2 stand (Hall B3, no. C21).
The Group will present its business model as a provider of access to all mobility solutions: credit, manufacturers' and distributors' captive, LTR, short term rental, subscriptions, car sharing, charging stations.
Its stand will host Creditplus, specialist in consumer credit in Germany and expert in automotive financing on this market; CA Auto Bank, an independent and multi-brand pan-European leader in the financing and leasing of vehicles; and Drivalia, the mobility company of the CA Auto Bank group that, given the upcoming opening of its German branch, will display the full range of its leasing, rental and mobility products.
Together for the future of green mobility: Crédit Agricole Consumer Finance and its subsidiaries announce their participation in the 2023 edition of the IAA Mobility, one of the most important automotive expos in the world. After the success of the first edition (over 400,000 visitors in 2021), the Group will take part in the event in Munich, from September 5 to 8, to showcase the future of mobility.
CA Auto Bank, Drivalia and Creditplus will be alongside CA Consumer Finance, jointly affirming the Group's ambition to be the European leader in green mobility, standing out as the main player able to address the evolving mobility landscape and energy transition challenges. All these companies, gathered under the "CA Mobility" label, will be present at a large 360 m2 stand in the Hall B3 (no. C21).
The CA Consumer Finance's participation in the event is a significant aspect of Crédit Agricole Group's commitment to meeting all customers' mobility needs, through a full range of mobility solutions, from financing to rental products, with a strong focus on sustainability. CA Consumer Finance aims to finance half of all new green vehicles (electric or hybrid) by 2025 and to reduce the carbon footprint of its automobile financing by 50% by 2030.
CA Auto Bank, evolved out of FCA Bank, will take part in the event alongside Drivalia, its mobility company, which will soon open a branch in Germany. Together, they will introduce their financial services and mobility solutions, which are designed to make access to zero- and lowemission vehicles increasingly democratic and affordable for everyone. The Bank has the ambition for 80% of its new vehicle portfolio to be fully electric or hybrid by 2030.
Creditplus' ambition is to make a significant contribution to the ecological and social transformation of the German economy and to support the expansion of electric mobility. The bank is thus enlarging its range of products with tailor-made car financing and is also characterised by its captive and non-captive expertise (1st place in the AUTOHAUS BankenMonitor 2022 in the "non-Captive" category), as well as its know-how in the areas of lending and leasing. As part of its Go-Green initiative, Creditplus offers sustainable financing solutions to support its partners and help them reduce the environmental footprint of their activities.
"Our presence in Munich reaffirms our ambition to become a European leader in green mobility. Banks play a crucial role in driving the transition to electric and hybrid vehicles, ensuring accessibility to as many people as possible. We address these challenges with the transformation of Crédit Agricole Consumer Finance, which relies on several international pillars, including CA Auto Bank, and our local markets. This allows us to cover the entire green mobility value chain across 19 countries" said Stéphane Priami, CEO of CA Consumer Finance.