E+Share Drivalia
ELECTRIC CAR SHARING AT YOUR FINGERTIPS
With E+Share Drivalia all you need is your smartphone to drive an electric car, across town or for just a few minutes.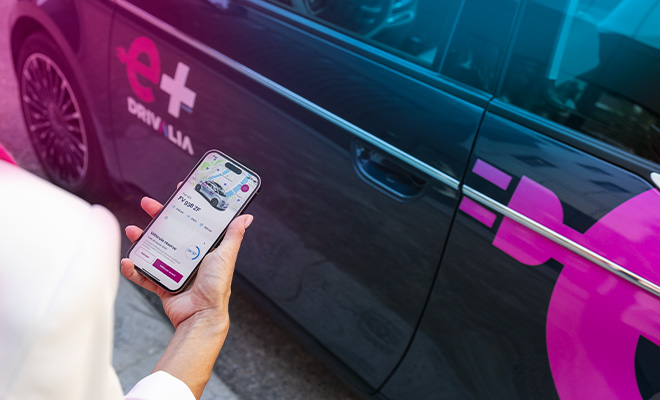 E+Share Drivalia is the 100% electric, free-floating (no parking restrictions) car sharing service.
It can be managed directly from your smartphone thanks to the new dedicated app, which is simple and intuitive. It allows you to drive the electric New 500 in Turin, Milan and Rome. Also available in Lyon, France, it will soon arrive in major European cities.
E+Share Drivalia combines all the advantages of electric driving and the new forms of mobility.
It was born as an ideal solution for driving in restricted traffic zones in cities and reaching city airports.
the New 500 is a zero-emission vehicle;
can circulate in city centers and during traffic bans;
the service also allows free parking in blue-striped spaces;
major airports feature the reserved electrified parking spaces of the Drivalia Mobility Stores.
To date, users of E+Share Drivalia have at their disposal a fleet of more than 1,200 New Fiat 500s in free-floating mode (free-flowing, with no parking restrictions).