WHO WE ARE
THE MOBILITY BANK FOR A BETTER PLANET

CA Auto Bank is the digital bank specializing in sustainable mobility. Operational in 19 countries, it combines a wide range of financing, rental and mobility services with innovative and flexible banking products.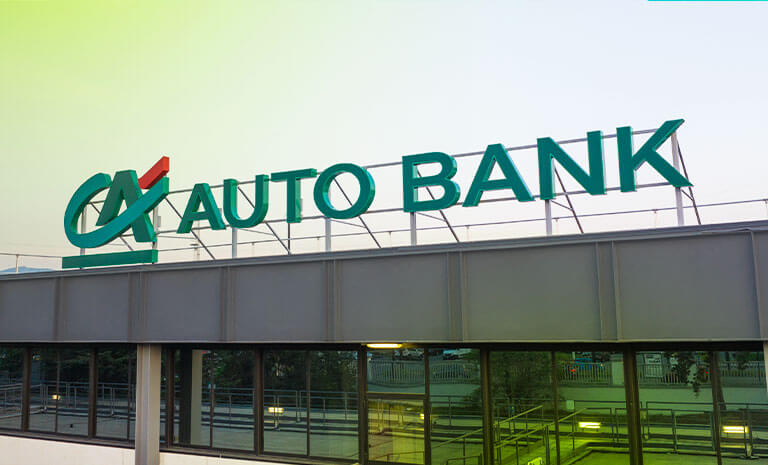 We combine a century of experience and success with the strength and driving vision of the Crédit Agricole Consumer Finance Group. Our blend of tradition and innovation enables us to aim for ambitious goals: to become one of the leading independent players in auto, rental, and mobility financing. Our reach extends to every sector, from automotive to motor vehicles, to leisure, to marine, to agriculture, to light and heavy commercial vehicles, but always with a strong focus on green mobility.
We finance mobility and promote sustainability
We bring nearly 100 years of experience in car and rental financing on the road to green mobility. Our goal is to democratize sustainable mobility. We want to enable everyone to experience eco-driving, especially electric driving. "Sustainability" for us means taking care of both the Planet and People. It is this approach with which we support our customers, constantly to meet their expectations.
A world of services to serve the planet
We provide a comprehensive and innovative system of mobility services, with a focus on sustainable mobility.Through Drivalia, which specializes in rental and subscription solutions, we provide a full range of mobility plans, especially sustainable ones: from electric car sharing to car subscriptions and rentals covering all durations, from short to medium and long term. Our commitment to sustainable mobility translates into empowering everyone to drive the latest generation of electric vehicles and offering an extensive network of Mobility Stores and proprietary charging stations throughout Europe.
For 100 years on the move
Building on nearly 100 years of experience in auto financing, we continue to set ambitious and significant goals for ourselves. Our journey began in 1925 with the birth of SAVA (Società Anonima Vendita Automobili), the first auto finance company in Italy. Since then we have continued to grow, increasing our international footprint and range of services and products. Today we put deep industry knowledge at the service of many prestigious automotive brands, thanks to the long journey that has taken us to be operational in 17 European countries and Morocco. The experience gained as CA Auto Bank and the solid presence of the Crédit Agricole Consumer Finance group, our shareholder, have enabled us to evolve further. The goal is to establish ourselves as one of the leading independent players in the auto financing sector, with a target outstanding  portfolio of €10 billion by 2026.
The virtual and virtuous bank.
We are a digital bank and grow along the two axes of innovation and sustainability.
To improve both the present and the future.
Innovation improves the present by bringing practical, fast and flexible solutions. Like our financing, rental and mobility plans, tailored to the needs of dealers, private and corporate customers. But our goal is first and foremost to improve the future as well: that's why we pay attention to environmental and social sustainability.
So many fellow travelers
On this growth path, we have expanded our offering, enriching it with innovative and prestigious brands and different types of vehicles, particularly electric and hybrid. Our financing solutions cover an increasingly wide range of vehicles:
automotive brands
motorcycles and e-bikes
light and heavy commercial vehicles
leisure (motorhomes and caravans)