Drivalia launches

CarCloud MG

, the subscription to green vehicles from
Morris Garages
the subscription to green vehicles from Morris Garages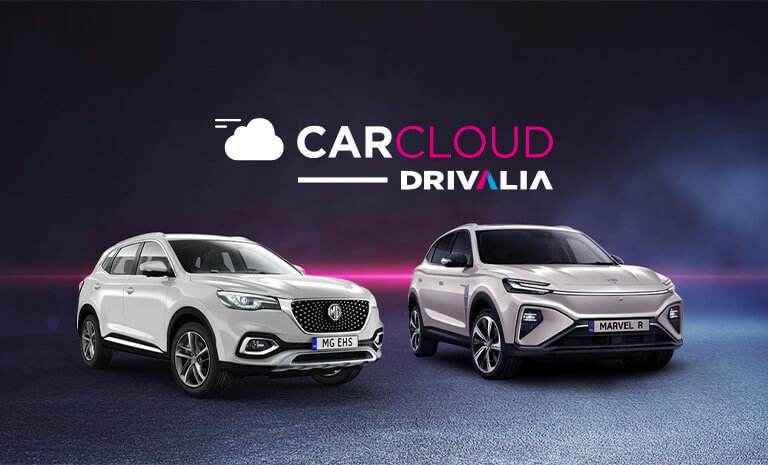 The MG EHS and MG Marvel R electric SUVs have joined the CarCloud family, the popular monthly car subscription service with over 30,000 satisfied users.
Activable on Amazon and at Drivalia Mobility Stores, the plan allows users to book or exchange one of the included models with just 48 hours' notice.
Available initially in Rome, Milan, and Turin, CarCloud MG marks the first step in a broader collaboration between Drivalia and the renowned British brand.
Drivalia's mobility of the future travels toward the green transition. The CA Auto Bank Group's rental, leasing and mobility company is launching CarCloud MG, a new monthly subscription plan dedicated to MG EHS and MG Marvel R, two electric vehicles by MG Motor, the renowned British brand about to celebrate its centennial, part of the SAIC Motor Group
With the addition of the C-SUV plug-in hybrid MG EHS, with its bold and sporty look, and the flagship MG Marvel R, a fully-electric elegant and spacious SUV, the CarCloud family of sustainability-driven plans is expanded.
The car subscription chosen by more than 30,000 users in 4 European countries (Italy, France, Spain, and Portugal) can be easily activated by purchasing the subscription voucher for €249, available on Amazon or at participating Drivalia Mobility Stores, and converting it on the CarCloud website. Once activated, you can enjoy driving the MG EHS and MG Marvel R models on a subscription basis for €599 and €899 per month, respectively.
The plan, designed for individuals and independent professionals, can be renewed monthly up to a maximum of one year, with a minimum duration of 30 days, after which it can be cancelled without penalty. Once the subscription is activated, it will be possible to book the vehicle, as well as change it, with 48 business hours' notice at participating Mobility Stores.
The subscription, initially active in Rome, Milan and Turin, includes 1,000 km per month and all services for driving in total peace of mind, including third-party liability, Kasko and theft insurance, routine and non-routine maintenance.
The new CarCloud MG plan marks the beginning of a more structured collaboration between Drivalia and MG, in line with the companies' shared strategy to develop innovative mobility solutions that promote sustainability.
This launch further reinforces Drivalia's commitment to driving the green transition, thanks also to its extensive network of proprietary charging stations, the largest in Italy.