CA Auto Bank and McLaren Automotive announce new retail finance agreement for McLaren Financial Services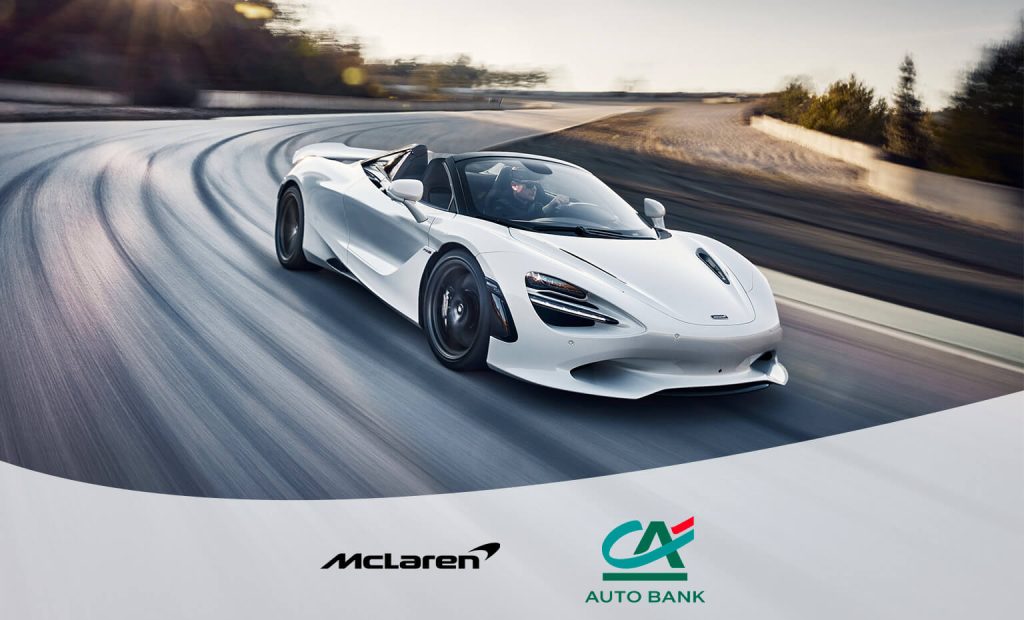 CA Auto Bank and supercar manufacturer McLaren Automotive have announced the launch of McLaren Financial
Services in six European markets.
Signed in the 60th anniversary year of the renowned Woking-based brand,
the new agreement covers Austria, France, Germany, Great Britain, Italy and Switzerland.
CA Auto Bank will provide McLaren's customers with innovative
and tailored financial solutions.
The agreement encompasses all McLaren models,
including the Artura highperformance hybrid.
International banking group CA Auto Bank and McLaren Automotive, the renowned British supercar manufacturer, today announce the creation of McLaren Financial Services in six key European markets.
Launching in McLaren's 60th anniversary year, the collaboration will provide innovative and customised financial solutions, as well as an enhanced customer experience, to McLaren customers. Initially implemented in 6 countries (Austria, France, Germany, Great Britain, Italy and Switzerland), the collaboration will expand to additional markets in the coming months. The agreement covers all models produced by the brand, ranging from the new, benchmarkbeating 750S – the lightest and most powerful series-production McLaren – to the highperformance hybrid McLaren Artura, and superlight yet refined McLaren GT. Signed at the McLaren Technology Center (MTC), the brand's headquarters in Woking, Surrey, UK, the agreement marks a significant milestone for both companies. "We are delighted to have CA Auto Bank as our retail finance partner in these key markets. McLaren Automotive is committed to optimising its European network, with the goal of providing best-in-class financial services to customers interested in purchasing one of our incredible supercars. CA Auto Bank was the obvious choice, due to their very successful track record of supporting elite brands", said Brett Soso, Managing Director – Europe Middle East and Africa of McLaren Automotive. "McLaren has put together an exciting growth strategy and choosing the right retail finance partner is crucial to achieving its success".
Giacomo CarelliCEO of CA Auto Bank, expressed his satisfaction with the new agreement, stating, "In our nearly century-long history we have developed a deep understanding of the exclusive and elite vehicle financing sector. We are proud to support McLaren and view this agreement as a crucial step in our growth journey, positioning us as a leader in all-round mobility financial services in Europe".